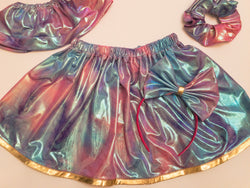 Reversible, Waterproof Skirt
This adorable skirt is does it all! This little skirt will wow at school or in the pool! Made from a stretchy poly blend used in most bathing suits, this is our first ever waterproof skirt! And if that is not amazing enough, it is reversible too! Shimmery on one side and colorful tie dye on the other. You will flip over this skirt!
But don't stop with just the skirt. Add a scrunchy or hair bow to bring that "Wow" to any outfit!
Approximate dimensions as all skirts are made by hand, no two are identical.
Doll: 5" length 11" waist
Newborn: 6" length 15" waist
3-6 month: 7" length 16" waist
6-12 month: 8" length 17" waist
12 month/2t: 9"length 18" waist
3t/4t: 10 1/2" length 18" waist
5/6: 12" length 20" waist
7/8: 14 1/2" length 22" waist
10: 15 1/2" length 22" waist
12: 16 1/2" length 23" waist
14: 17 1/2" length 24" waist
Larger sizes such as "mother daughter" available via special order and subject to an additional charge. Please email with attention Special Size to contact@birthdayskirt.com.